| | |
| --- | --- |
| Activity | Distribution of School Books and Bags |
| Thematic Area | Education |
| Date | 06th June 2022 |
| Geography | Achalapur |
| Taget Group | School Children |
| No. of Beneficiaries | 85 |
Mr Udhav Kulkarni – KFIL
Mr Yamanurappa – GP Member
Mr Ravi – School Head Master
Mrs Deepa S – SIRDS
Mrs Akkamma – SIRDS
Village leaders
School Children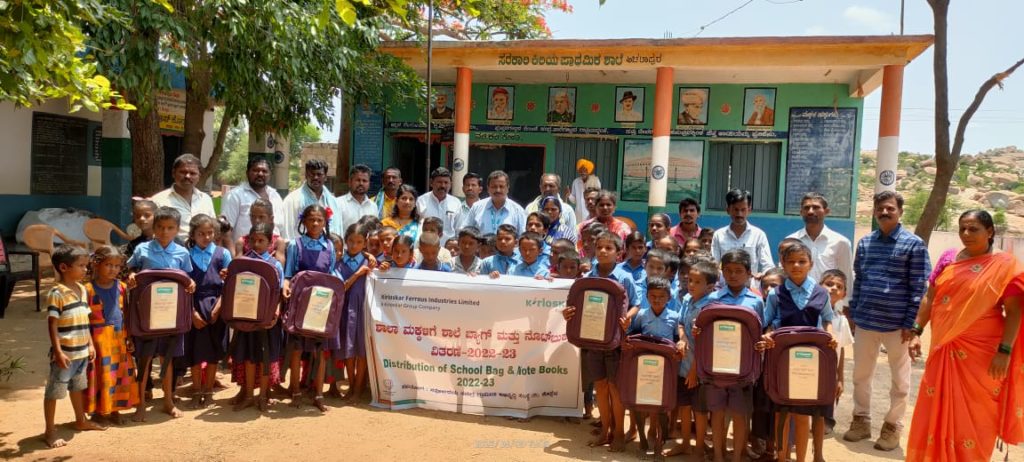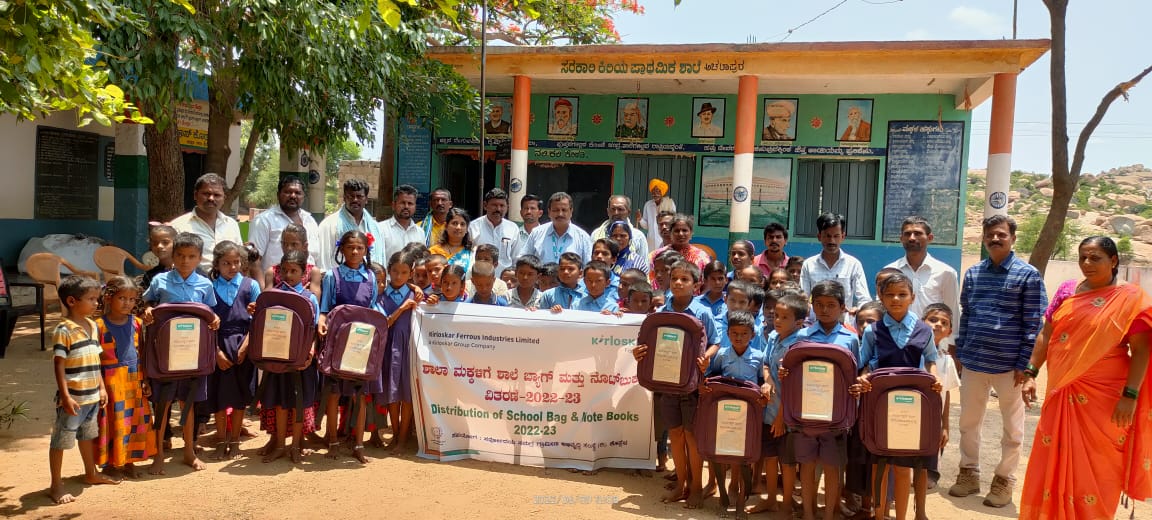 SIRDS identify underprivileged children dwelling slums or some children studying in government schools. Due to poor economical condition, they lack facilities and affording education become beyond their abilities.  Perhaps these children are first-generation learners and lack privileges and support from their parents. In order to help these underprivileged children kick-start their educational journeys and write brighter futures for themselves, we approached KFIL to support them by providing educational materials.  Since KFIL have started this program we have been supporting 4000 school children every year since 2012 and have reached more than 50000+ underprivileged children by providing necessary educational materials such as school bags, books, and more.  Through this drive, we SIRDS & KFIL are hoping to set in motion the educational journey of these underprivileged children.
This program will provide an excellent education and opportunities to these underprivileged children for holistic growth and development which will put them on the path forward to making a good career.  This school kit distribution will encourage both children and their parents to take education seriously. At the end of the day, the main objective is to provide resources that otherwise would not be made available by the families of these children.  Total 85 students were given school bag and books (4 books of 200 pages king size) at Achalapur Primary School in the presence of KFIL official, SIRDS officials, GP Member, Village leaders, School HM & staff.
Overwhelmed by unbound happiness
Mr Ravi (School Head Master) : "Happiness is seeing the smile on a child's face as they learn" – Such a compassionate people like you are able to bring a smile on the face of these children. We hope you continue to support us in this initiative.
Mr Yamanurappa (GP Member) : "Here we can see a big smile on the faces of these children. They want to continue their education but lack of facilities lag them behind. We have reached thousands of children with your support and cooperation".
Mrs Akkamma (SIRDS Representative) : "The children were really excited to receive these stationery kits. We truly feel blessed to have kick-started this positive change in their lives! It was heartwarming to see children who have never held a pen before hold these kits close to their hearts, with the hope to start writing better futures for themselves".
With all our benefactors KFIL have been able to touch the lives of more than 50,000+ children through this initiative. Many slum dwelling children have completed their education and are working in various institutions.
After giving opportunities to earn livelihood, their parents themselves send the children to school.